Description:
The ALL-NEW Alanté Sport front wheel drive power wheelchair is very stable and has been stylishly redesigned with a unique and vibrant red color shroud that is sporty and functional.
300 lbs Weight Capacity
2 Under Seat Storage
Front LED Light
Disassembles into 5 pieces
Weight Capacity: 300 lbs.
Drive Range: 15 Miles.
Heaviest Piece: 66 lbs.
Top Speed: 4.30 MPH.
Total Weight: .
Weight Capacity:

300 lbs

Drive Range:

15 Miles

Heaviest Piece:

66 lbs

Top Speed:

4.30 MPH

Total Weight:

146 lbs
Selecting a Power Wheelchair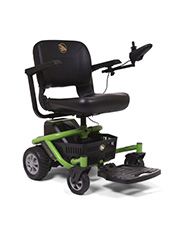 Travel / Portable / Folding
Designed for portability and to work in compact or crowded spaces like apartments, cruise ships, stores, etc..
Disassembled by removing the seat, battery pack and base
Components are relatively lightweight
Some lifting involved when moving the heaviest piece
Folding scooters are very portable easily fitting into vehicle trucks or cargo areas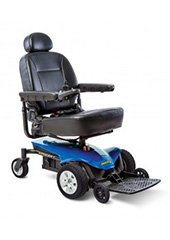 Full-Size
Very sturdy and durable, built for everyday use
Designed with many extra features including faster speeds, longer battery ranges, higher weight capacities and higher ground clearances
Easy to maneuver and can be used indoor and outdoor
Available in all drive types; rear-wheel, front-wheel and mid-wheel
May require a vehicle lift to transport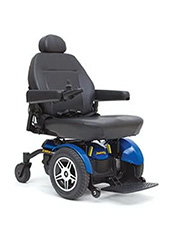 Heavy-Duty
Designed for higher weight capacities (300 lbs. to 650 lbs.)
Very sturdy and durable, built for everyday use
Available in all drive types; rear-wheel, front-wheel and mid-wheel
Most models do not disassemble, vehicle lift is required to transport
Drive-Wheel Differences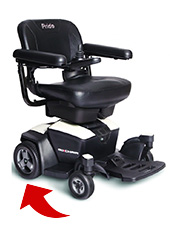 Rear-Wheel Drive
Some of the most stable chairs on the market
Weight is distributed to the back of the chair
Highest top speeds available
Have the largest turning radius
Going up very step hills can cause the chair to lean back on the anit-tip tubes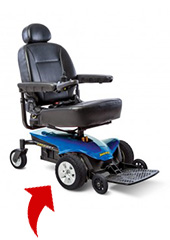 Front-Wheel Drive
The Drive-Wheels are in front of the seat
Ideal for uneven terrain and up and down hills
Can climb over small obstacles
Slower top speeds
Because most of the chair is behind you it is important to be aware of what is behind you at all times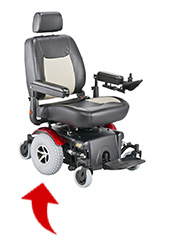 Mid-Wheel Drive
The Drive-Wheels are essentially under you
Center of gravity is just about even with the center of the drive-wheels
Ideal for maneuvering in small, tight places
Not ideal for varied or uneven terrain that has steep transitions